As Promised … DIY Ombre'. Ole!
Couldn't deal with my brassy, grown out gray roots-ass nasty mom-hair for ONE MORE SECOND.  Decided to bite the bullet and try to do an ombre' on myself.  
Took a while,  but wasn't that difficult.  Of course, I've been coloring my hair since I was about 12.  May be a little daunting for first-timers.
Anyone who hasn't lived under a rock for the past year knows about supercute trendy Ombre' hairstyles (usually with lilac or pink or something I can no longer pull off in my advanced age).  Had it pro-done several months ago.  It turned out okay, but not exactly what I wanted.  It was a trial run.  
So, I read some articles, watched some tutorials and let's face it, refuse to pay lots of money for what I know I can do my damn self.
I wanted something like this, but slightly less stupid looking: 
So I colored my roots first with a chestnut brown, pulled it about halfway down the length of my hair (not quite), then washed / rinsed and dried.  Ready for blonding!  That's a word, don't worry.
Banded off my hair several inches up from the ends (pigtails on either side like a hipster), and saturated those ends with super blonde for about 35 minutes.  Came back over it (plus a couple of inches higher) to make a transition and left that on for an additional 15ish minutes.  I could post all the steps and grainy phone photos of the process, but that's lame.  SO - I'll do a simple before / after split screen.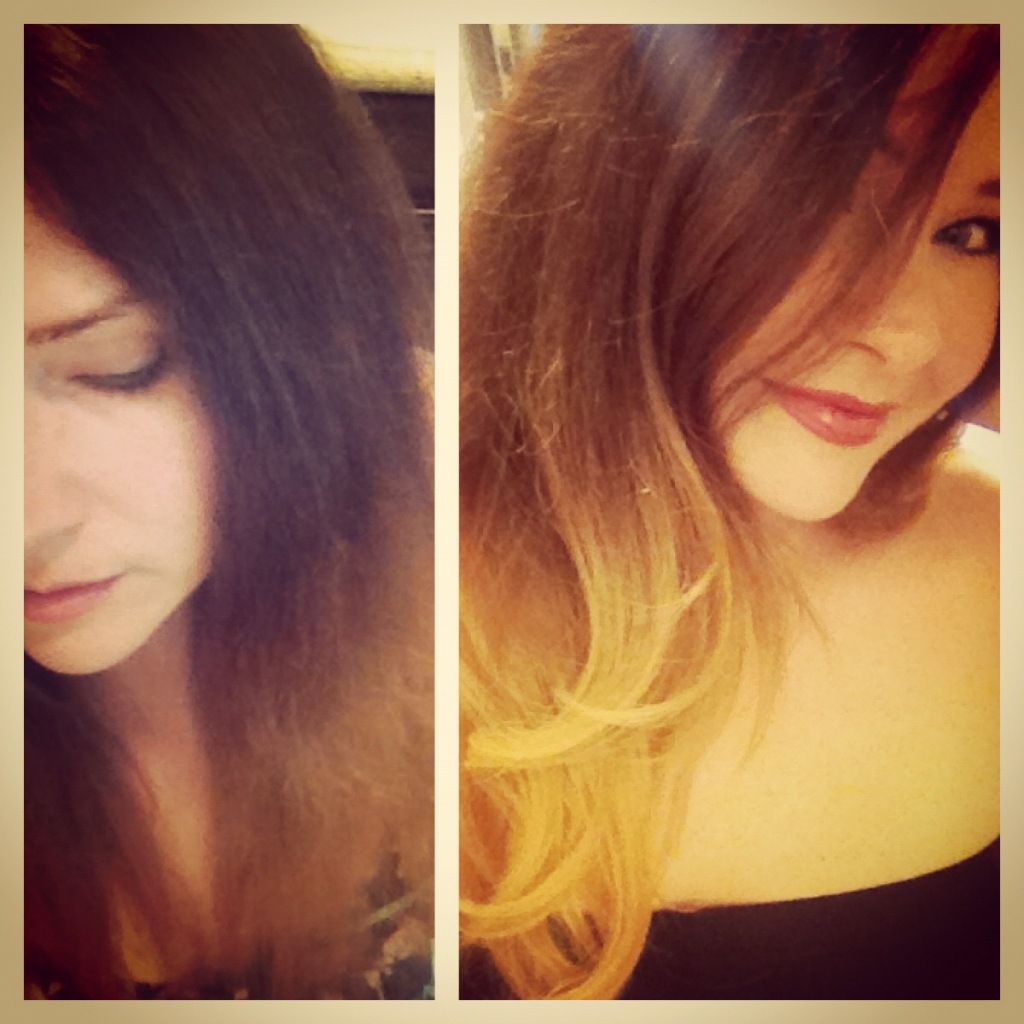 YAY!
---
Okay, Tumblr. I'll play again.
It's been a while since my last post.  I have since changed jobs, so my day-to-day hasn't been filled with discovering supermodels and the next child actor.  I miss those interactions, but it's fine … Really.  This gig is stable and sweet, and allows me freedom that I never knew possible.  
Decided that I would utilize my Tumblr for something beside searching for the latest photos of Justin Bieber, with whom I am obsessed.  Not kidding and not being ironic.  I'm 41 years old and IDGAF.  Sometimes a person just needs a guilty pleasure.
Note to Pseudo Cougars of the world:  Read your retarded 50 Shades of Give Me a F-ing Break, misogynistic mommy-porn (barf) and listen to Maroon 5 with your chunky highlights, bedazzled t-shirts, jeans and Payless heels.  Sip your cosmos and have big fun with all that.  I'll take a Macallan 12 neat and some Bieber.  Also, don't call yourself a Cougar if your pretend boyfriend isn't between 18 and 24 years old, because that's just silly.  Ain't that right, sweet Biebz?
I'm currently in the process of a DIY Ombre' (the new coug answer to short hair and chunky highlights?) If it turns out well and doesn't look like Neapolitan icecream, I'll post photos.  Fingers are crossed.
XOXO
---
Beauty is in the eye of the beholder and it may be necessary from time to time to give a stupid or misinformed beholder a black eye.
"
— Miss Piggy
---
Scouting. It's an art.  This is one of my models.  People are shocked when they see her before photo…  For some reason her mom sent me what has to be the worst photograph of a kid EVER, but I saw beyond the terrible expression and goofy stance.  One of my very favorite "before and after" results.  I call her Girl H to protect her identity (mostly because of the FIRST photo she submitted).  She's now one of our models.  Check our Girl H.
---
Dreams pass into the reality of action. From the actions stems the dream again; and this interdependence produces the highest form of living.
"
— Anais Nin 
---
For one … I love boys with brown eyes.  All the true loves of my life have been brown-eyed.   There haven't been many, FYI.  Also, he's ethnically ambiguous which is pretty rad and marketable and bookable.  He photographs well for having had zero training.  plus - brown eyes.  sigh. 
---
I have so many up-and-comers happening.  I can't wait to post before / afters of their original digitals or submitted photos vs. their imaged and re-tooled looks after we get hold of 'em.  I've got a great one coming up, she's REALLY a total turnaround. Unbelievable.  Further proof that it takes an EYE for this to see through a rough looking gal and finding a model in there.  
---
This is another little gal I shot the other night.  If her dad lets her, she's going to be an incredible talent.  Beautiful, sweet and very smart.  Love to see what develops with this one.  She's show-material if all goes well. 
---
Teamwork makes the DREAM WORK …
"
— I have no idea.  But I love it.
---
I love working here.  It is not work.  This is a digital polaroid that I took of a girl named Anna (from Austin) who is lovely and would be an incredible model.  I hope she's able to make it happen. I really love her face.  I mean, look at her FACE. 
---